Integrated Marketing Communication (IMC) is a strategic marketing approach that combines various promotional tools and techniques to deliver a cohesive and consistent message to the target audience. IMC ensures that all marketing efforts work together harmoniously to achieve the desired marketing objectives. Before getting into the nuances of IMC, let's define marketing first.
What is Marketing?
Marketing is the science and art of exploring, creating, and delivering the value to satisfy the needs of a target market at a profit. (Dr. Philip Kotler)
Who does Marketing?
A department within the organization often performs marketing.
What are the Key Processes of Marketing?
Opportunity identification
New product development
Customer attraction
Customer retention and loyalty building
Order fulfillment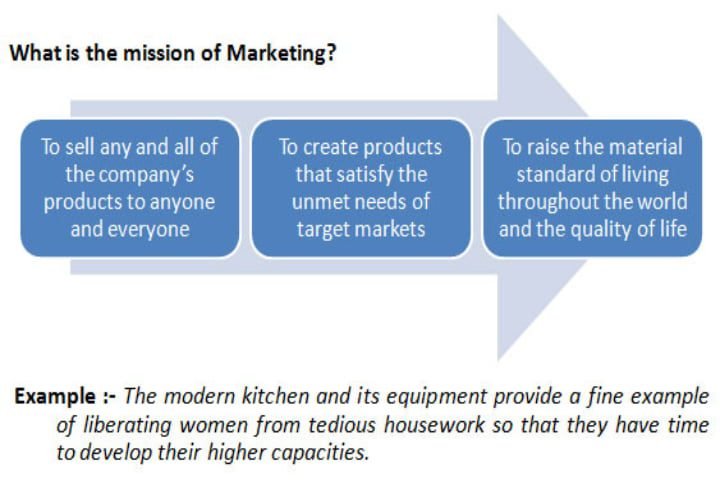 Marketing Strategy
The Ultimate Challenge!
"Consumers do not buy what one sell. They buy what has value to them."
We are exposed to hundreds of marketing messages every day. But our brain automatically picks up only those stuff that we actually want or need. A marketing message operates exactly the same way. Marketing strategy is the process of uncovering messages that can be heard.
Why does marketing strategy matter?
"Because it saves the time, money, and effort, and delivers the message to the audience who actually cares for the message."
People don't just "buy" a product.  They "buy" the concept of what that product will do for them. This is precisely what the marketing strategy does.
Integrated Marketing Communication (IMC)
The term Integrated Marketing Communications was first coined in 1989.
The American Association of Advertising Agencies defined IMC as "An approach to achieve the objectives of a marketing campaign through a well-coordinated use of different promotional methods that are intended to reinforce each other."
Marketing Mix or Marketing Strategy is the combination of stages or elements necessary to the planning and execution of the total marketing operation.
The term Marketing Mix was first coined by Prof. N.H.Borden and later Prof. McCarthy introduced the 4P's of Marketing Mix.
Price
Place
Product
Promotion
The end result of IMC is a single brand message across all the marketing channels.
Why Integrated Marketing Communication?
In the traditional marketing concept, a sender (seller) conveys a message to a receiver (buyer) in order to achieve an objective (to sell a product/service/idea). However, it was felt that marketing communication should focus more on the receiver and the meaning created by the receiver in the communication process.
IMC was an innovation to rescue the downward of the advertisement industry and to strengthen the strategic and tactical power of branding.
Integrated marketing communications is an approach to planning communications to get better results from a campaign and reduce marketing costs.
By integrating tools such as advertising, direct mail, social media, telemarketing, and sales promotion, it provides clarity, consistency, and maximum communications impact.
Marketing Mix
The Marketing Mix
The four Ps—product, price, place (distribution), and promotion—are marketing mix elements. The basic marketing task is combining these four elements into a marketing program to facilitate the potential for exchange with consumers in the marketplace.
A firm can spend large sums on advertising or sales promotion, but it stands little chance of success if the product is of poor quality, is priced improperly, or does not have adequate distribution to consumers.
The market must be analyzed through consumer research, and the resulting information must be used to develop an overall marketing strategy and mix.
The Evolution of Integrated Marketing Communications
During the 1980s, firms began moving toward the process of IMC rather than relying primarily on media advertising. The IMC approach helps companies with relationship marketing.
Relationship Marketing
Relationship marketing involves creating, maintaining, and enhancing long-term relationships with individual customers as well as other stakeholders for mutual benefit.
Several factors are favoring relationship marketing:
Customers have become much more demanding
Technology is making it possible to configure and personalize various products and services, including computers, automobiles, clothing, etc.
Changing Face of Advertising and promotion
In the past, marketers relied primarily on advertising through traditional mass media. Nowadays, other communication techniques such as websites, direct marketing, sales promotion, publicity and public relations (PR), and event sponsorships are being used.
How has Integrated Marketing Communication become essential?
The mass market is fragmented.
The explosion of new technologies gives consumers greater control over the communications process.
The rapid growth of the Internet and electronic commerce.
The emergence of global markets.
Economic uncertainties.
"An Army of One" Campaign – Case Study of Integrated Marketing Communication Approach
During the early to mid-1990s, the U.S. Army faced trouble attracting young men to enlist for military service.
For advertisement, they relied on the "Be All That You Can Be" tagline and expensive television commercials to deliver the self-actualization message.
The booming economy of the '90s created many other opportunities for youths.
The Army's financial package was not enough
Youth were not willing to endure the demands of basic training
Comments such as "not for people like me," "for losers," and "only for those with no other options" were typical of the feelings young people held toward military service.
In June 2000, the US Army hired Leo Burnett as its new agency
The agency felt that the tagline had lost its relevance with young adults and could not be used to reposition the Army.
A new campaign integrated marketing campaign— "An Army of One" was launched.
It highlighted that soldiers are not nameless or faceless, but the Army's most important resource and each individual can and does make a difference.
A reality show, "Basic Training," was launched that gives viewers a glimpse of the actual army recruitment process.
The ads also promoted the Army website GoArmy.com.
The "An Army of One" campaign has been a great success. The Army fulfilled its 2001 recruiting goal of 115,000 new recruits one month early.
The U.S. Army encourages consumers to visit the GoArmy.com website, which provides valuable information such as career paths, the enlistment process, and benefits.
Publicity for the U.S. Army is generated through press releases and public relations activities, as well as in movies and television shows.
At the local level, the Army sponsors athletic events and participates in activities such as career fairs to reach its target audience, plus incentives and bonuses.
Promotion Mix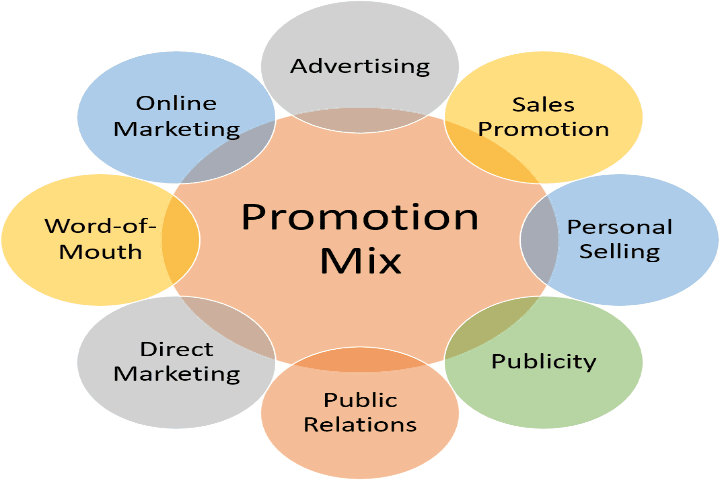 The communication components of marketing, also known as promotion mix, traditionally include Advertising, Public Relations and Publicity, Personal Selling, Sales-Promotion, further added Direct Marketing, Online/Digital Marketing, Word-of-Mouth/Viral Marketing, etc., are referred to as marketing communication.
Though advertising is considered prominent, but it is only one of the several marketing communications options available to a company.
Let's briefly discuss each separate element of the promotion mix.
Advertising
Advertising is any paid form of non-personal controlled communication by an identified sponsor using mass media to persuade or influence an audience to sell ideas, goods, and services.
Paid form – Advertiser purchase time or space to communicate about a certain product or service
Non-personal communication – It is done in a non-personal manner through intermediaries or media
Idea, goods, and services – It is not only restricted to tangible goods
An Identified Sponsor – Advertising, on the other hand, discloses or identifies the source of the opinions and ideas it presents
Advertising intends to sell and create an aspiration towards a certain product and create that vital and persuasive distinction that makes it a brand.
Public-Relation
People who have an interest in an organization are its public. Public Relations mainly deals with the relationship between the public and its organization.
Sales promotion
Sales promotion includes short-term marketing tactics like discounts, coupons, contests, or limited-time offers aimed at encouraging immediate sales.
Personal selling
Personal selling is a one-on-one communication approach where salespeople engage with potential customers directly to persuade and close sales deals.
Publicity
Publicity is a PR tool mainly meant for image building. It is the act of securing media coverage or attention through press releases, events, or other PR strategies to enhance a company's image. It is non-paid.
Direct Marketing
Direct marketing involves communicating directly with consumers through channels like email, direct mail, or telemarketing to generate a response or drive a specific action.
Online/Digital Marketing
Online/Digital Marketing uses internet-based strategies such as SEO, social media, content marketing, and online advertising to reach and engage the target audience.
Word-of-Mouth/Viral Marketing
This relies on satisfied customers or influential individuals to spread positive information about a product or brand, often through social networks, creating a viral effect.
| PROMOTION METHOD | TARGET AUDIENCE | COST TO COMPANY | STATUS OF SPONSOR | FEEDBACK STATUS | CHANNEL |
| --- | --- | --- | --- | --- | --- |
| Advertising | Wide Audience | High | Paid | Trackable | Media channels, TV, radio, and newspaper |
| Public Relations and Publicity | General Public | Moderate | Non-paid | Monitorable | Media, events, PR |
| Personal Selling | Individual Buyers | High | Paid | Direct Feedback | Face-to-face interactions |
| Sales-Promotion | Bargain Seekers | Variable | Paid | Measurable | In-store, online |
| Direct Marketing | Targeted Lists | Moderate | Paid | Trackable | Email, direct mail |
| Online/Digital Marketing | Online Users | Variable | Paid | Analyzable | Internet, social media |
| Word-of-Mouth/Viral Marketing | Influential Users | Variable | Mostly Unpaid | Hard to Control | Social networks, viral |
It is important to note that the "COST TO COMPANY" and "STATUS OF SPONSOR" for Word-of-Mouth/Viral Marketing may vary widely because it often rely on organic, user-generated content. Still, companies may invest in influencer marketing or sponsored posts to some extent. Compared to other methods, the "FEEDBACK STATUS" for Word-of-Mouth/Viral Marketing is challenging to control and monitor.