Indian media is as Colorful as India
India is a country that is the size of a continent and has a lot of different religions, languages, and cultures. The country's media is also rich and varied; the ownership patterns in media are diverse at the national level and concentrated at the regional level.
In India, there are more than 17,160 registered daily newspapers in English, Hindi, and other languages. There are also almost 900 TV channels in the country, and more than 400 are news channels. The number of channels is slowly rising.
Big media organizations have a footprint across the country and in several regions. However, at the state level, there is tough competition from smaller media outlets with a large following.
All established newspapers have a digital version of their print edition that includes videos, blogs, opinion pieces, and analyses that might not fit in a daily newspaper. However, some media outlets only exist online. These media organizations have websites mostly made up of analyses and views.
The government has a monopoly over news content on radio. News can only be heard on All India Radio, a state-run public channel. The Ministry of Information and Broadcasting, Government of India, funds an independent organization called Prasar Bharati to run it.
The "Media Ownership Monitor" (MOM) is a media watchdog involved in developing a mapping tool to create a publicly available, continuously updated database that lists ownership patterns in media of all relevant mass media outlets—press, radio, television, and online media.
MOM has investigated 58 media outlets in India, including 25 print media, 23 TV outlets, 9 online media, and 1 radio station. 39 companies and 45 individual owners own them.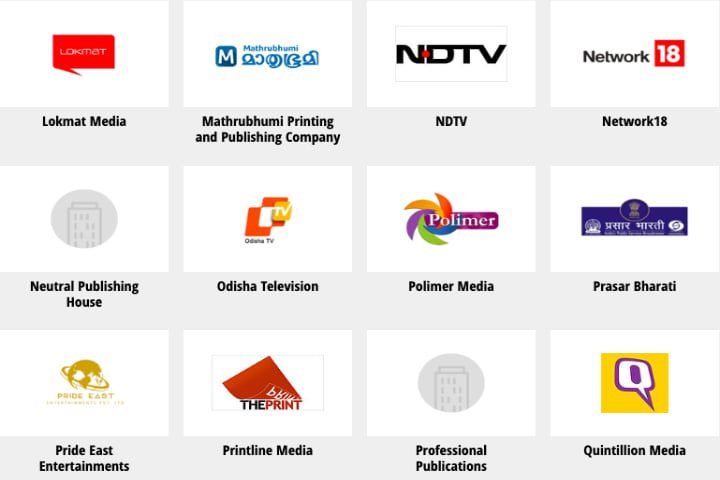 Mass media influence the way facts are viewed and debated in society. For a democracy to work, the media, public opinion, and views must be free to differ and include criticism of those in power.
Therefore, the first step toward independence and freedom of choice is to keep an eye on ownership patterns in media and support the ownership diversity of media organizations.
The media industry in India has grown enormously. There are now many news TV channels, newspapers, and magazines, both online and offline, and live news on handheld devices like cell phones.
The number of people who watch the news is staggering, and it keeps growing every day. Does this wider reach of media, especially news, help to keep different points of view alive, or does it make it easier for one point of view to become stronger while drowning out others?
Ownership patterns in media are crucial to maintaining the freedom of the press. If ownership rests in the hands of a particular group with specific political or business affiliations, the consequences are compromised press freedom and unhealthy democracy.
Therefore, is media control in India an exclusive club? Or do people from different social classes and groups have ownership? Is the news disseminated in various ways, or does it push a particular idea or agenda?
The MOM finds out that while media ownership seems fairly plural at the national level, it is highly concentrated at the regional level. More significantly, local players now dominate the regional level, where national media organizations used to be dominant.
The Indian media market differs from developed countries in several ways. All segments of the Indian media industry are still growing, unlike in developed countries.
Due to the diversity of the country in terms of languages and its vast geographical expanse, the Indian media market is highly fragmented.
Ownership Patterns in Media in India
In both print and electronic media, there are four main types of ownership:
Chain
Cross-Media
Conglomerate
Vertical Merger
Chain Ownership
When a media company owns multiple outlets in the same medium, like a chain of newspapers, radio stations, TV stations, or book publishing companies, this is called "chain ownership." Examples: The Statesman, The Times of India, The Hindu, The Telegraph, The Ananda Bazaar Patrika, etc.
Cross-Media Ownership
In cross-media ownership, one company owns more than one form of media, such as newspapers, magazines, record labels, publishers, etc.
Media Conglomerate
Controlling a conglomerate means owning several businesses, including a media company.
A large company might also have controlling shares in several media-related businesses. Their main business will make a lot of money. Still, they run a media company for attention or to have social and political power over people who make decisions in the private or public sector and the current government. They own many different businesses, such as radio stations, newspapers, magazines, cable TV services, and TV shows.
Vertical Integration Ownership
Vertical integration in the entertainment and media industries refers to the ownership and control of two important entities: the broadcaster, which provides broadcasting and content services, and the distributor, which provides access to content to consumers.
The recent trend shows that many TV distribution platforms and broadcasting companies are venturing into each other's domains, for example, broadcasting companies owning Cable, DTH, HITS IPTV, etc., and distribution platforms venturing into the broadcasting sector.
One prime example is ZEE Network, a content producer, and Dish TV offers that content to consumers via direct-to-home services.
Who owns the media in India?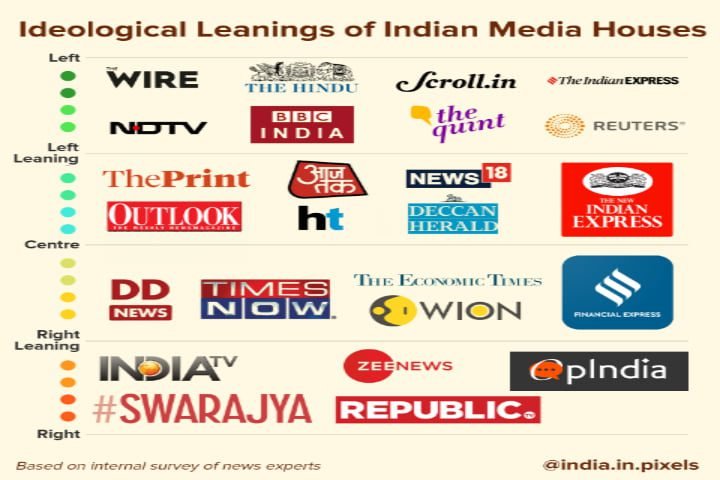 As per the findings of MOM, media companies in India are mostly private limited companies. Only a few public companies trade between 25 and 35 percent of their shares on the Indian Stock Exchange. The founding families continue to hold a majority of control over these.
To the outside world, media ownership in India looks nice. Primarily consisting of people with experience in the media, companies that work with media as part of their more comprehensive range of services, or businessmen with multiple interests. However, one can see the political influence in the background if one looks beneath the surface.
Here are some important examples:
Asianet News Network Limited, or ANN, is the owner of Asianet News Malayalam and Suvarna News Kannada. However, Rajeev Chandrasekhar, a member of Parliament for the Bharatiya Janata Party (BJP), owns Jupiter Capital, a company that owns ANN.
The Darda brothers, who served as ministers in the Indian National Congress (INC) government in Maharashtra and the previous Congress-led government at the center, now own Lokmat.
The Sun Group is the biggest media conglomerate in South India. Kalanithi Maran, a member of the Dravida Munnetra Kazhagam party and the grandson of former Tamil Nadu Chief Minister Muthuvel Karunanidhi, is in charge of running it.
Riniki Bhuyan Sarma is the wife of Himant Biswa Sarma, Chief Minister of the BJP government in Assam. She runs News Live, a well-known news station in the eastern part of the country.
The family of Nationalist Congress Party president Sharad Pawar runs a well-known Marathi newspaper named Sakal.
Mukesh Ambani, through the Independent Media Trust, of which RIL is the sole beneficiary, completed the acquisition of control in Network18 and its subsidiaries.
Subhash Chandra, promoter of Essel Group, which owns Zee Media Corporation Limited, is known for his proximity to the BJP. Zee Entertainment Enterprises, run by Chandra's sons Punit and Amit, has 76 channels reaching 1.3 billion viewers in 173 countries.
Before Gautam Adani led the acquisition, Radhika Roy and Prannoy Roy held around a 29.18% stake in NDTV, and Abhey Oswal owned 14.17% through Oswal Greentech Limited, who was the father-in-law of Congress ex-MP and industrialist Naveen Jindal. Radhika Roy is the sister of Rajya Sabha MP Brinda Karat, who is the wife of CPI (M) General Secretary Prakash Karat.
Anuradha Prasad, managing director of BAG films and News 24, is the wife of Congress Rajya Sabha MP Rajeev Shukla. She is also the sister of senior BJP MP and leader Ravi Shankar Prasad.
Rajat Sharma is the Chairman and Editor-in-Chief of India TV. He is also known for his proximity to top BJP leaders, including the Prime Minister. He was the former ABVP General Secretary, youth wing of the BJP.
Karthikeya Sharma, the owner of the ITV Media Group, which runs numerous news channels, including News X, owns India News. Karthikeya Sharma and Manu Sharma (convicted in the Jessica Lal murder case) are the sons of Congress leader Venod Sharma.
Subrata Roy owns a fleet of national and regional news channels under the Sahara India Television Network. He is famous for hosting grand parties in his Sahara City, Lucknow, for the entire union or state cabinet, whether it is the Atal Bihari Vajpayee government or socialist Mulayam Singh Yadav's Samajwadi party.
It's important to remember that being politically active doesn't always or even usually mean being biased politically. However, the link between being politically active and content bias needs a close investigation for media plurality and healthy democracy. Media organizations that support a particular ideology risk losing their diversity because they are either owned by or financially dependent on a political party.