What is mobile journalism?
In a world where news travels at the speed of light, the way we gather, produce, and consume information has completely transformed. 'Mojo,' or mobile journalism, is at the forefront of this transformation in news reporting.
The practice of capturing, editing, and delivering news using smartphones or other mobile devices is known as mobile journalism. Worldwide, seasoned journalists and aspiring storytellers have embraced this radical shift in reporting.
It is a trend in news coverage and broadcasting that has become the new standard in journalism practice, especially in reporting breaking news.
Mobile journalists need to be their own cameramen and editors. They have the skills to complete the whole news production process in the field, from news gathering to publishing and broadcasting.
Case Study: ETV Bharat and Samsung Galaxy Smartphones for Mobile Journalism
Based on the success of its regional newspapers and satellite channels, ETV Bharat launched its digital platform in 2021 with hyper-localized content and distinctive news and infotainment offerings.
Through its dedicated state portals and applications, ETV Bharat covered 28 states in 12 Indian languages.
Challenges
For news coverage, ETV Bharat reporters had to cover 700 remote districts in various parts of India. It was a constant struggle to manage a live news feed in such a vast geography.
Sending news from the journalist to the main news centre was also difficult. After editing the news, journalists uploaded it to the server using an expensive converter.
It was difficult to transport this equipment to remote places, and the media outlet could not track its staff in emergencies.
Solution
Each reporter was given a Galaxy smartphone to record, edit, and upload news to the media server. Mobile Device Management Software, Knox MDM, enabled multi-app kiosk mode on the smartphone, blocking functions such as Application Installation, Settings, USB Transfer, Device Manager, SD Card, and Wi-Fi for added security.
Centralized Media News Server enabled real-time data verification, collection, monitoring, and broadcasting. Smartphone GPS tracking helped to locate on-ground journalist locations during emergencies.
Result
Journalists could instantly share field news with the media server, ensuring that there is no lag in live news broadcasting without the need for expensive and bulky equipment.
Knox MDM protected critical data from any loss. The Centralized Media News Server simplified data collection. The GPS tracking ensured that on-ground staff was traceable 24/7.
Advantages of Mobile Journalism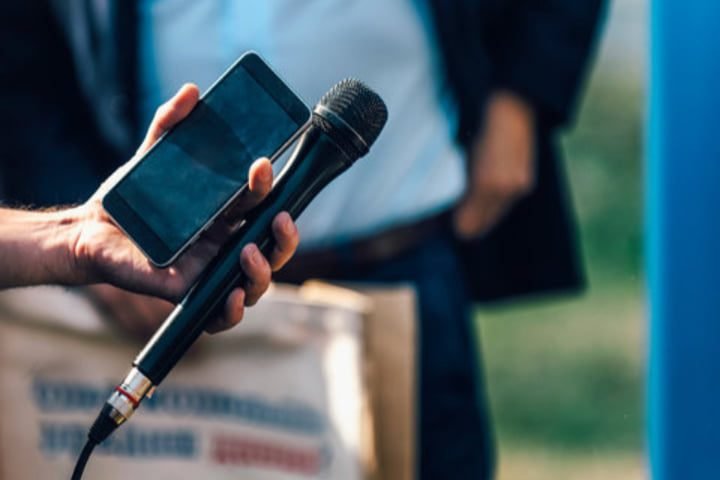 Reduced Costs
Cameras and audio equipment used in traditional news reporting can be costly. Mobile journalism significantly decreases these costs. You only need a smartphone, an extremely common and reasonably priced gadget.
Mobility
The independence that mobile journalism provides is one of its main advantages. Without having to carry bulky gear, reporters can perform their work in a better and more efficient manner. They can record stories as they happen, even in difficult or remote places, because to their mobility.
Safety
Mobile journalism offers an additional degree of protection in risky or unpredictable circumstances. Reporters can efficiently cover breaking news while keeping a safe distance from the unfolding events. There is no reason to risk one's safety to make a story work.
4K Quality
Many of the latest smartphones have excellent cameras, some of which can capture 4K video. With this much detail, the video is guaranteed to be clear, sharp, and broadcast-ready.
Live Streaming
Mobile devices make it possible to report in real-time. Reporters can provide their audience with an immersive and instantaneous experience via live-streaming events, breaking news, or interviews.
Efficiency
One notable benefit of mobile journalism is its efficiency. Reporters can save time and resources by capturing, editing, and delivering news all from the same device. It simplifies every step of the procedure.
Innovation and Creativity
Regarding mobile journalism, innovation has no boundaries. Reporters can experiment with different angles, styles, and storytelling techniques easily. To enhance their storytelling experience, they can add effects, overlays, or even graphics using various apps.
Skills Required for Mobile Journalism
A new set of abilities has emerged for reporters with the rise of mobile journalism, or "mojo." These skills not only make it easier to discover the news and report it, but they also make sure that the content is engaging and meets the tastes of today's diverse audiences.
Story Planning
Effective story planning is the first step in mobile journalism. In addition to drafting a preliminary storyboard and writing a script, reporters also need to make sure their visuals effectively represent the news. Consider it telling a story with your smartphone, where each frame and shot matters.
Shooting and Editing
For mobile journalists, the ability to shoot and edit video packages on location is essential. This involves using the right software and apps to record the video and add sound, transitions, and other visual effects. It's all about using your smartphone to transform raw footage into a compelling story.
Multi-Platform Adaptability
Today's audiences are diverse, and they get their news from many different sources. Mobile reporters need to learn how to use all of these different platforms and make sure their stories are suitable for each one. This means understanding the different requirements of social media, websites, and mobile apps.
Apps for Shooting, Editing and Broadcasting for Mobile Journalism
There are a number of different apps available for mobile journalism, including apps for shooting, editing, and broadcasting. Here are a few of the latest and most popular apps for each category:
Shooting Apps
Filmic Pro (iOS, Android): Filmic Pro is a professional-grade video camera app that gives manual control over settings such as shutter speed, focus, and ISO. It also has a waveform monitor and a built-in teleprompter.
Open Camera (Android): Open Camera is a free and open-source camera app that offers a wide range of features, including HDR, manual controls, and time-lapse mode. It also has a built-in level and grid to help compose the shots.
ProShot (iOS, Android): ProShot is another camera app that gives you manual control over a variety of settings. It also has a histogram and a live preview of the video.
Editing Apps
LumaFusion (iOS, Android): LumaFusion is a powerful video editing app that offers a wide range of features, including a multi-track timeline, green screen, and color correction. It can import and export projects in different aspect ratios.
KineMaster (iOS, Android): KineMaster is a free video editing app that offers a wide range of features, including a multi-track timeline, green screen, and voiceover recording. It also includes functionality to export projects in different aspect ratios and social media presets.
VN Video Editor (iOS, Android, PC, Mac): VN Video Editor is a free video editing app that offers a wide range of features, including a multi-track timeline, green screen, and color correction. It also has the ability to import and export projects in different aspect ratios and social media presets.
Broadcasting Apps
StreamYard (web): StreamYard is a cloud-based live streaming platform that allows to broadcast live to multiple platforms simultaneously, such as YouTube, Facebook, and Twitter. It has the features to add guests and graphics to a live stream.
Switcher Studio (iOS): Switcher Studio is a live streaming app that allows to switch between multiple video inputs, such as a camera, microphone, and screen capture. It can add guests and graphics to the live stream.
LiveU Solo (iOS, Android): This is a professional-grade live streaming solution for mobile devices. It uses cellular bonding technology to ensure a reliable connection, even in areas with poor signal strength.
These are just a few of the many different apps that are available for mobile journalism. The perfect set of apps to fit individual needs and budgets can be found easily.
Tips for Choosing the Best Apps for Mobile Journalism
When choosing apps for mobile journalism, there are a few things to keep in mind:
Compatibility: Make sure that the apps is compatible with the mobile device.
Features: Consider the features that are important as per your unique requirements.
Price: There are both free and paid apps available. Choose apps that fit your budget and needs.
Reviews: Read reviews of different apps before you download them. This can help you get an idea of what other users think of the apps and whether they are worth using.
Tips for using mobile journalism apps
Use a tripod or stabilizer. This will help to keep the footage steady and professional-looking.
Shoot in good lighting. Avoid shooting in direct sunlight or in dark areas.
Use an external microphone. The built-in microphones on mobile devices are often not very good.
Edit the footage carefully. Edit any unnecessary footage and add music and effects to enhance the story.
Share the content on social media. This is a great way to reach a wider audience.
With a little practice, you can use mobile journalism apps to create high-quality content that can be shared with the world.
Essential Equipment for Mobile Journalism
There are several essential accessories that can elevate the news gathering process. Here's a closer look at the must-have equipment for mobile journalists.
1. Smartphone
Choice of smartphone is crucial. A device with a high-quality camera, ample storage, and processing power is must for capturing footage, conducting live interviews, and editing content on the move.
2. Microphones
Sound that is clear and sharp is the most important part of a news package. Buy external mics to get better sound, especially in places with a lot of noise. It's helpful to have Lavalier mics, shotgun microphones, and portable audio recorders on hand.
3. Tripods and Stabilizers
People hate watching Shakey videos. Whether filming a news story or an interview, tripods and stabilizers will help you get steady shots. They are necessary for professional-looking content.
4. Lighting
Proper Lighting is essential for shooting. Portable LED and ring lights ensure your subject is well-lit, especially in low-light conditions. This makes a huge difference in final output.
5. Power Banks
Mobile journalism can be a power-draining task. Carry a reliable power bank to ensure smartphone stays charged throughout the day, especially when covering lengthy events or breaking news stories.
6. Gimbal Stabilizers
Gimbals are a game-changer for mobile journalists. They offer smooth, professional-grade video stabilization, allowing to capture dynamic shots and panning sequences with ease.
7. External Storage
With 4K videos and high-resolution photos, storage space can run out quickly. Buy extra storage devices with plenty of space so you never miss a crucial moment due to limited space.
8. Protective Gear
Purchase rugged cases and screen covers for your smartphone and accessories to keep them safe from the rough conditions of reporting from the field.