In today's digital age, the landscape of news consumption has undergone a significant transformation. The rise of digital platforms and the widespread availability of the Internet have started a new era of journalism. The modern news consumer is exposed to various online newspapers, e-magazines, and newsletters. Therefore, it is crucial to understand the dynamics of writing for online media like online newspapers, e-magazines, and newsletters for writers and editors to understand the preferences and behaviors of the modern news consumer.
The Modern News Consumer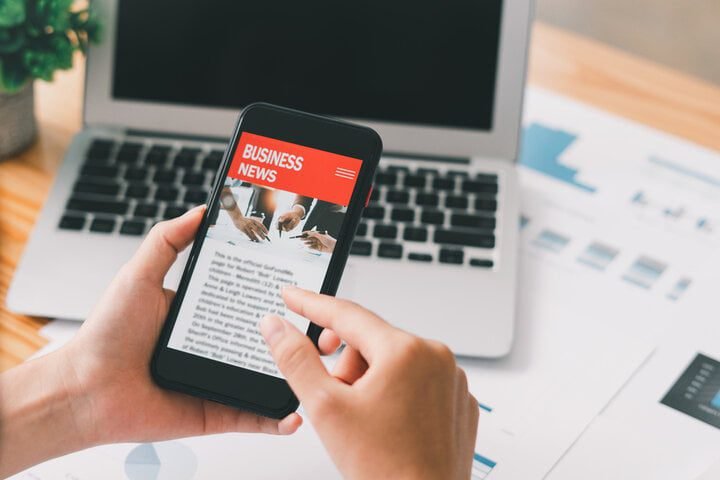 The digital revolution has empowered news consumers in unprecedented ways. Social media, messaging apps, texts, and email now provide a constant news stream. Information arrives as clickable links and shares, causing modern news consumers to exercise caution as they explore this complicated news ecosystem. They carefully consider news sources, demonstrating their increased awareness of false information and bias. This distinction emphasizes how crucial it is to present reliable, precise information in Internet media.
A News Platform Fact Sheet by Pew Research Center in 2022 reveals that the traditional news industry has seen significant disruptions due to the news industry's shift from print, television, and radio to digital platforms. This shift has particularly affected the print news industry. It is also reflected in how Americans claim to obtain their news. Americans now obtain their news, at least occasionally, through digital devices.
Most American consumers (82%) get their news through a computer, tablet, or smartphone, and 49% do it frequently. This is less than 2020's 60%, but comparable to 2021's 51%. The amount of news consumed online continues to surpass that of news presented on television. 31% of Americans watched TV for news in 2022, compared to 40% in 2020.
In America, people prefer to get their news through TV and digital gadgets rather than print magazines and radio. Regarding news, nearly half of Americans (53%) say they prefer digital devices over TV (33%). Radio is chosen by even fewer Americans (7%) than print (5%). Since 2020, these percentages have remained constant.
Headlines, Hooks, and Hyperlinks
Online stories can be written and edited in precisely the same way as a print story, but it will neither present the information effectively nor it will take advantage of the strengths of the medium.
Newspaper and magazine readers might page through the publications from start to finish; this almost never happens online.
The Web isn't designed to make you concentrate on one thing. It's a non-linear medium. Its hyperlinks invite you to look at new things rather than concentrate on a news story in an orderly fashion.
News sites usually have a home page full of organized links, and readers choose stories that attract their interest in a category and story with strong leads and concise, informative headlines.
Headlines must hook and inform readers enough to make them click through to the story. Using strong verbs and highlighting the key points of the story can make headlines more effective.
Leads
Leads for online stories are even more critical than for traditional media. Leads need to be punchy and informative in online storytelling.
Online readers are more fickle than those in any other news medium; they sample stories, and if their attention isn't sustained right away by a story's lead, they close it out and move on.
Studies have shown that online readers read deeper into stories than print readers if their interest is sustained in the first few paragraphs.
Structure of Online Story
A standard structure for online news is to write stories in "chunks," i.e. sections of a few paragraphs rather than one long narrative.
Assigning headers to sections also makes readers more likely to continue.
Some online publications limit how much can appear on one page, allowing readers to click through to continue reading. Get to the point and make it easier to understand than flowery prose.
Hyperlinks
The use of hyperlinks is common practice in most online news stories. Links to related stories may be placed in a box at the end of the main story. Links may also be included between paragraphs to divide stories into sections. Ideally, links should be open in new browser windows or tabs.
BBC prefers 33-character headlines on their homepage. BBC redesigned its website in 2010 with tools like short-form analysis, explainers, or fact boxes for news stories. These are the ways of adding value to stories without writing a full-length analysis piece.
Writing for Online Media
The headline should match the story, have verbs, and must not be ambiguous.
When writing for the web, stories need to be told in essence in the first four paragraphs, around 70 words. The introduction should have the crux of the story. Paragraphs should be clear balanced, provide context, and are effectively self-standing.
Strong intros
Avoid putting attribution first angle second.
Write: "The United States is repositioning its forces in the Libya region as the West weighs potential intervention against Muammar Gaddafi, the defense department says."
Do not write: "The US defense department says it is repositioning its forces… Gaddafi."
All important summary
The summary is a single sentence that sells the story on the website's front page. It should expand on the headline, reflect the story's intro, and should summarize what the story is about. The summary should ideally have no clauses and stick to the present or future tense.
Headline: "Burglary at Ozzy Osbourne's home"
Summary: "A large amount of jewelry is stolen from the rock star Ozzy Osbourne's mansion while he and his wife are sleeping."
Effective Use of Visual Elements
Visual elements, such as images and captions, significantly enhance the appeal and comprehensibility of online news articles. The chosen image should be relevant to the story, and the caption should provide additional context or insight. Captions should be original and not simply copied from the article's main body.
How to use Quote
Quotes are a potent tool in online news writing. When using quote boxes, they should appear prominently on the page. Proper punctuation and formatting conventions should be followed to maintain professionalism.
Quote boxes should be placed higher on the page than the actual quote that appears in the text.
When a quote is embedded in a sentence, the comma comes after the quote marks: Paul Newman enjoyed his inclusion on President Nixon's enemies list – "the highest single honor I have ever received", he said.
The comma should be inside quotation marks where a whole sentence is quoted: "These attacks on the civilian population may amount to a crime against humanity," the NATO secretary general told the BBC.
Subheadings
Subheadings, also known as cross-heads, serve as signposts for readers. They should be intriguing and refer to content explicitly covered in the text beneath them.
Editing Online Stories
The role of an online story editor is crucial in maintaining the quality and consistency of published content. Editors should meticulously review and ensure that:
The copy is free of errors, including spelling and grammatical mistakes.
Headlines are compelling and effectively attract reader interest.
Photo captions and credits are accurate and relevant to the story.
All visual elements are correctly positioned.
All components function seamlessly across multiple platforms and browsers.
WordPress Content Management System 
To maximize the impact of an online news article, careful consideration should be given to its presentation on the website. Content management systems like WordPress offer a range of customization options.
WordPress places the most recent posts on top of its home page. WordPress Themes include an option for "featured" posts, allowing to highlight particular stories at the top of the home page. Assigning appropriate categories and tags to each post enhances searchability and helps readers discover related content.
If a story package involves a sidebar story or a second story of some kind, publish the sidebar first so that when the main story is published, it will appear above the sidebar on the home page. It will also appear in that order on category pages and any archives you create.
Tools for Online Monitoring
LiveStats can monitor which stories are popular from hour to hour. It's an invaluable tool to understanding how to promote material and tailor it to different audiences at different times of day.
Search engine optimization (SEO)
SEO is a way of tailoring web content to make it more visible to search engines and findable to users. It involves understanding how search engines work and what words people are likely to search for.
Web journalists write headlines that make stories more accessible to find on search engines. Use the names of protagonists, choose straightforward terms, and place the strongest keywords at the start of the headline. For example, Go for 'Whitney Houston, US singer, and actress, dies aged 48' rather than 'Troubled US singing legend found dead in Beverly Hills hotel'.