What are brand positioning and repositioning?
Brand positioning and repositioning are critical components of a brand's overall marketing strategy. It involves creating a distinct image for a product or brand in the minds of consumers. The goal is to find a strong and unique position in the consumer's mind and occupy it.
Brand positioning and repositioning is not a one-time effort; it requires continuous monitoring and adjustment to stay relevant and competitive in the market.
Positioning starts with understanding or mapping the consumer's mental perceptions of products or brands. The consumer's mind space is not available for sale or lease, but a brand can hope to occupy a space as a tenant based on the quality and quantity of marketing efforts. The aim of the marketer is to find a strong position in the mind and sit on it.
Positioning is the art of creating a distinct image for a product in the minds of customers.
For example, the "Automated Teller Machine (ATM)" is a product, while for most of the customers, it is meant as "Any Time Money", which is a positioning.
This mental perception is the result of the functional attributes and benefits (tasty, sporty, aromatic, roomy, etc.) of a product or brand as well as the non-functional or emotional association that a product or brand acquires mainly from advertising (reliable, prestigious, smart, modern, etc.)
Let's get deeper into the concept of brand positioning and explore case studies that highlight both successful and unsuccessful positioning strategies.
Brand Positioning and Repositioning Case Studies
Case Study: 'SABENA' Belgium World Airlines
SABENA was the national airline of Belgium from 1923 to 2001. It became Brussels Airlines after a merger with Virgin Express in 2007.
Initially, traffic for SABENA was small due to fewer tourists visiting Belgium.
The logical solution was to make Belgium an attractive destination for a larger pool of tourists. But the problem was that Belgium was not associated with any big image in tourist's minds, like London with Big Ben and Thames, New York with the Statue of Liberty, Paris with the Eiffel Tower, etc.
The problem was positioning the country, not the airline.
A breakthrough came when "The Michelin Guide" awarded three-star status to six cities in Europe that were "worth a special journey", including Bruges, Ghent, Antwerp, Brussels, Tournain, and Amsterdam; of these, five were in Belgium. Amsterdam was already a hot tourist destination, so this gave birth to the positioning statement of Belgium: "In beautiful Belgium, there are five Amsterdams."
This creative approach successfully positioned Belgium as an attractive tourist destination, ultimately benefiting SABENA.
Case Study: Maggie
In 1982, Nestle considered launching Maggie instant noodles in India.
Option of positioning
Cooking tasty Chinese dishes at home
As a 'TV dinner'
As a 'mini meal'
Consumer research suggestions: Tasty, instant snack, made at home and aimed at children.
Target market: The in-home segment in the snack category
Distant Competitors
All snack products in general
Ready-to-eat snacks: biscuits, wafers, peanuts, and samosa
Direct competitors
Snacks prepared at home: papad, peanuts, sandwiches, and pakoras
Traditional pasta products such as Chinese noodles and macaroni, however, they were invariably used for meals, requiring a fair amount of cooking time and garnishing was essential
Successful Positioning of Maggie
Maggie Noodle was launched in Delhi in January 1983, and it became an overnight success. The annual target for that market was increased from 50 to 600 tons. The Indian market became the second-largest Nestle market for this product worldwide, next only to Malaysia.
Maggie noodles found a vacant, strong position and sat on it as "the good to eat, fast to cook, anytime snack".
Case Study: 7-Up as the 'Un-Cola' Soft Drink
The sale of 7-Up was mainly as a mixer with hard drinks in the USA.
However, the market for Cola-based products had massive potential, mainly dominated by Coca-Cola and Pepsi.
Using Coca-Cola as a frame of reference, 7-Up advertising announced itself as the Un-Cola soft drink.
The positioning was aimed at:
7-Up as a soft drink
Different from Colas
Intriguing – What's an Un-Cola?
The strategy was so successful that it gave birth to many such ideas, like Citibank's 'Unfixed' Deposit, where a customer can take a loan against their FD by just signing a cheque, thus creating a perception of easy liquidity.
Case Study: Milkmaid's Positioning and Repositioning
Milkmaid condensed milk has followed four distinct successful positioning strategies to date:
Milkmaid was initially positioned as a "creamer" or "whitener" for tea and coffee.
The second position was "the tastiest milk made". It had relevance at a time when fresh milk was in short supply in some parts of India.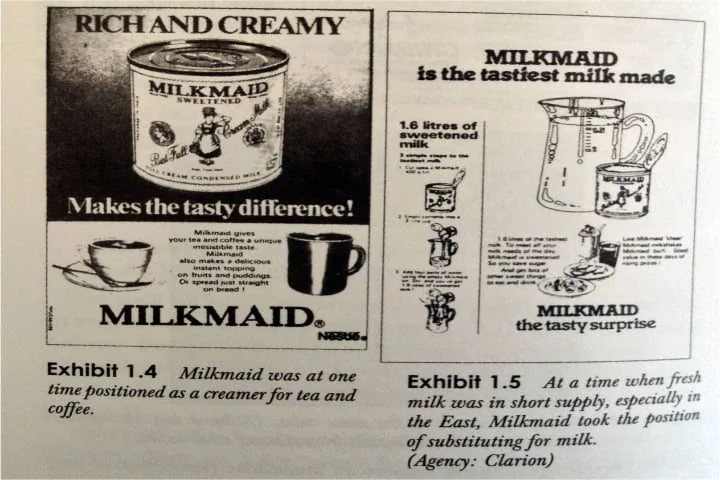 The next positioning was Milkmaid as a "topper on fruits and puddings".
The fourth positioning was "Milkmaid for dessert recipes".
In due course, the pack was designed accordingly, where the label depicts a dessert and gives the recipe on the reverse side along with a free recipe booklet.
The Pitfalls of Brand Positioning and Repositioning
Case Study: Milkfood Yogurt
Repositioning a brand has always not succeeded
Incorporated in 1973, Milkfood Limited is located in Patiala. It is a part of the Jagatjit Group of Industries, with its base at Hamira in Jalandhar (Punjab) and its corporate office in Delhi. Milk powders and pure ghee are their core products.
Milkfood's yogurt was initially positioned as an "anytime snack". This did not seem to work. So it was repositioned as "It is not just curd", hinting at both the fun value and nutritive value of yogurt.
Eventually, this positioning also didn't work. It was again positioned as mishti-doi (sweet curd) for the East and North Eastern parts of India, but finally, it has to be removed from the company's product portfolio.
Case Study: Le-Sancy Soap
Companies often promote attributes that consumers don't care about.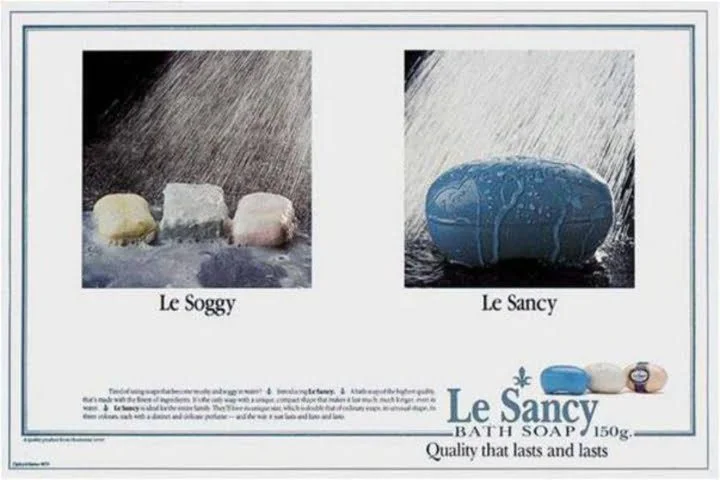 Le Sancy Soap was a failed product, mainly due to its wrong positioning. It was a premium "egg-shaped" soap that positioned itself as "the long-lasting soap".
It was later discovered that the long-lasting benefit can be an add-on benefit for the consumer but not the core benefit, which is beauty, skincare, health, etc.
Initially, a novelty value was added to the product because of its different shape and size, but post-use, consumers find it difficult to use on the body.
Case Study: Neem Soap
Companies sometimes invest too heavily in points of difference that can easily be copied. Positioning needs to keep competitors out, not draw them in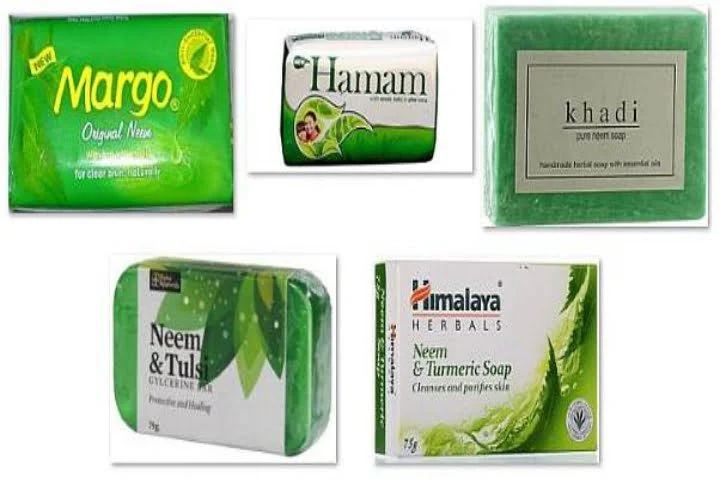 Margo's strength is its health positioning, supported by ingredients like neem leaves. It is a popular brand in eastern India. However, the benefits of Neem attracted other brands to follow suit.
Case Study: Horlicks vs Complan
Companies trying to respond to competition sometimes walk away from their own established position
Complan was launched by GlaxoSmithKline, a British company, in 1954. In 1994, it was acquired by Heinz, both in India and the UK.
Its closest competitor is Horlicks, which is a malted milk hot drink developed by James and William Horlick in 1873 in the USA. In 1969, Horlicks was acquired by the Beecham Group, which became GlaxoSmithKline in 2000.
The battle between Horlicks and Complan is a classic example of responding to competition at the cost of brand positioning.

Complan was launched as a competitor to Horlicks, positioning itself as a health drink that rebuilds brand awareness after deviating from a clear brand position.

It directly challenged Horlicks' dominance in the market. While the competition was fierce, Complan's positioning primarily revolved around being a rival to Horlicks.

The need to respond to competition sometimes leads brands to move away from their established position, resulting in a dilution of brand identity.

In the case of Complan, the brand initially struggled to maintain a clear positioning and faced challenges in differentiating itself from Horlicks.

Complan was positioned against Horlicks as follows:
Case Study: Chik and Velvettte Shampoo
Rebuilding brand awareness after deviating from a clear brand position
Chik and Velvettte Shampoo introduced the low-priced sachet revolution and surprised its competitors, Clinic and Sunsilk.
The consumer identified Chik as One Rupee shampoo Jasmine Shampoo or Khusboo Shampoo (South Indian actress Khusboo endorsed this product)
So, when Chik increased the price to 1.25 rupees, its sales dropped. Though its price was rolled back to 1 rupee, but by that time Sunsilk and Clinic started offering emotional benefits as well as functional benefits, while Chik was confined to Jasmine content only, and eventually, it failed.
This case highlights the importance of understanding the competitive landscape and the potential consequences of pricing decisions on brand positioning.
Brand positioning and repositioning is a dynamic and essential aspect of a brand's marketing strategy. Successful positioning creates a distinct and unique space in the minds of consumers, setting a brand apart from its competitors.
It requires a deep understanding of consumer perceptions and needs, as well as continuous monitoring and adaptation to changing market conditions.
While successful brand positioning and repositioning can lead to remarkable brand success, unsuccessful positioning can have adverse effects, including market failure. Repositioning is a complex and often risky endeavor, and it requires careful planning and execution.
Brands must be aware of the pitfalls and challenges associated with repositioning and should focus on aligning their strategies with consumer needs and values.